Hello everyone,Today is ....
We would like to introduce new product of L'ssential Japon. (レセンシエル ジャポン)
This product is made of nearly 10 branded essential oils.
It name is [Happy Brends] , and it is spray for mask.
Why don't you try to make the mask smell clean this season when there are many opportunities to use masks?
Anyway , plz take care not to catch a cold~!!  X(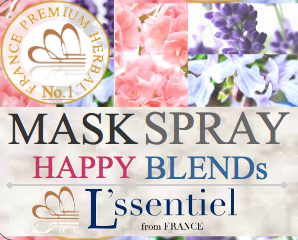 HOW to USE:
Spray 3 times to the part of the mask
not touching the mouth.
The scent continues for about 2 hours.
(INCLUDING SPECIAL BRENDs)
This product make you HAPPY!